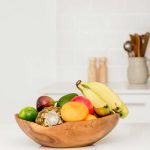 Is it really the end of March already?! You might feel like you are only just settling in to the new year; so now is a great time to review your daily nutrition habits!
We all live busy lives, so finding time to focus on your nutrition can be difficult. However, fuelling your body with nutritious food will make you more efficient, provide more energy and help avoid the 3pm slump.
If you've ever wondered what are some quick, easy and nutritious snack ideas… this blog is for you!
The definition of a snack is a small amount of food eaten between meals
With this in mind, it is clear that its purpose is to sustain us at least 2-3 hours or until we have our next main meal. But what exactly does this mean? Well, you have come to the right place to find out!
Choosing foods that contain protein and carbohydrates creates filling and satisfying snacks. Protein slows digestion and helps keep you full, whilst carbohydrates give you energy to get through the rest of your day.
The following guide will assist you in making nutritious snacks to help kick all of your performance goals:
Choose lean sources of protein such as, meat, fish, dairy, eggs and soy products 

Choose carbohydrates that are high in fibre such, as whole grains, fruits and vegetables

Include healthy fats for their anti-inflammatory benefits. For those with a stricter energy budget be mindful that fats are the most energy dense macronutrient, so practice portion control!

Following on from this, total calories are also important to be aware of. Optimal calories can vary greatly between individuals depending on their personal goals, activity levels, body composition, diet etc.
To help put this into practice, here are some healthy, affordable and simple snacks for you to prepare or throw together: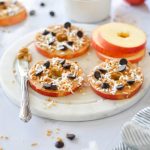 Apple slices + nut butter

Homemade trail mix (nuts, seeds, dried fruit etc.)

Fruit of your choice + a handful of nuts (10-20 nuts is generally recommended)

Raw veggie snacks (celery, carrot, cucumber, capsicum etc) + hummus & handful of nuts

Greek yoghurt tub (150-200g) + piece of fruit

Mainland Cheese & Crackers

Hard boiled egg + piece of fruit

Whole grain toast + nut butter or cottage cheese + tomato

Rice cakes/Vita Weats + spread of cottage cheese or avocado & sliced tomato

Packet of roasted fav-va beans or roasted chickpeas + Greek yoghurt
For those of you with more time up your sleeve or eager to prepare some nutritious homemade snacks, we have shared two of our favourite snack recipes! These include our Date Bliss Balls and Mini Veggie Frittata. Make sure to tag us in any of you creations @performdietetics 📸
DATE BLISS BALLS
INGREDIENTS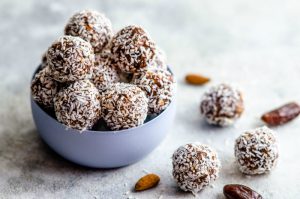 1 cup almond flour

1/2 cup mixed nuts/seeds

1 cup pitted Medjool dates (the fresh ones!)


3 Tbsp cacao powder

1/4 cup coconut milk

3 Tbsp extra virgin olive oil

1 tsp vanilla essence

Desiccated coconut to roll 🥥



METHOD
Blend all ingredients together until you achieve a formed consistency that is not too wet/dry.

If the mixture is too wet, add extra almond flour. If the mixture is too dry,  add extra oil. 

Once a desired consistency is reached, spoon out your mixture and roll into small balls

Optional to roll balls in desiccated coconut.
RECIPE NOTES:
Medjool dates are the fresh ones you get in the fruit & veg section of the supermarket

Recipe variations: use cashews or walnuts in place/ in combination with almonds; use dried apricots or other dried fruit you have on hand instead of Medjool dates

Roll these to the size your appetite/family needs or press mixture into a tray to make a bar if preferred!

Store these balls in the fridge or even the freezer if you are wanting them to keep for 

longer 
MINI VEGGIE FRITTATA 
INGREDIENTS (Makes 12 frittatas)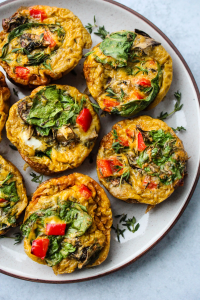 12 eggs 

1/2 onion (diced)

1/2 cup zucchini (grated)

1 cup extra veggies of choice (diced – we use mushrooms, capsicum, spinach) 

1/2 cup sun-dried tomatoes (oil drained)

1 cup mozzarella cheese (grated)

pepper (to taste)

handful of basil or 1Tbsp mixed herbs (optional)
METHOD
Preheat oven to 180˚C.

Spray a 12-cup muffin pan with non-stick cooking spray or use muffin liners.

In a large mixing bowl, beat eggs.

Add in remaining ingredients and mix together.

Scoop egg mixture evenly across 12 muffin tray.

Bake for 20-25 minutes or until the centre of the muffin is completely cooked
Enjoy ☺️