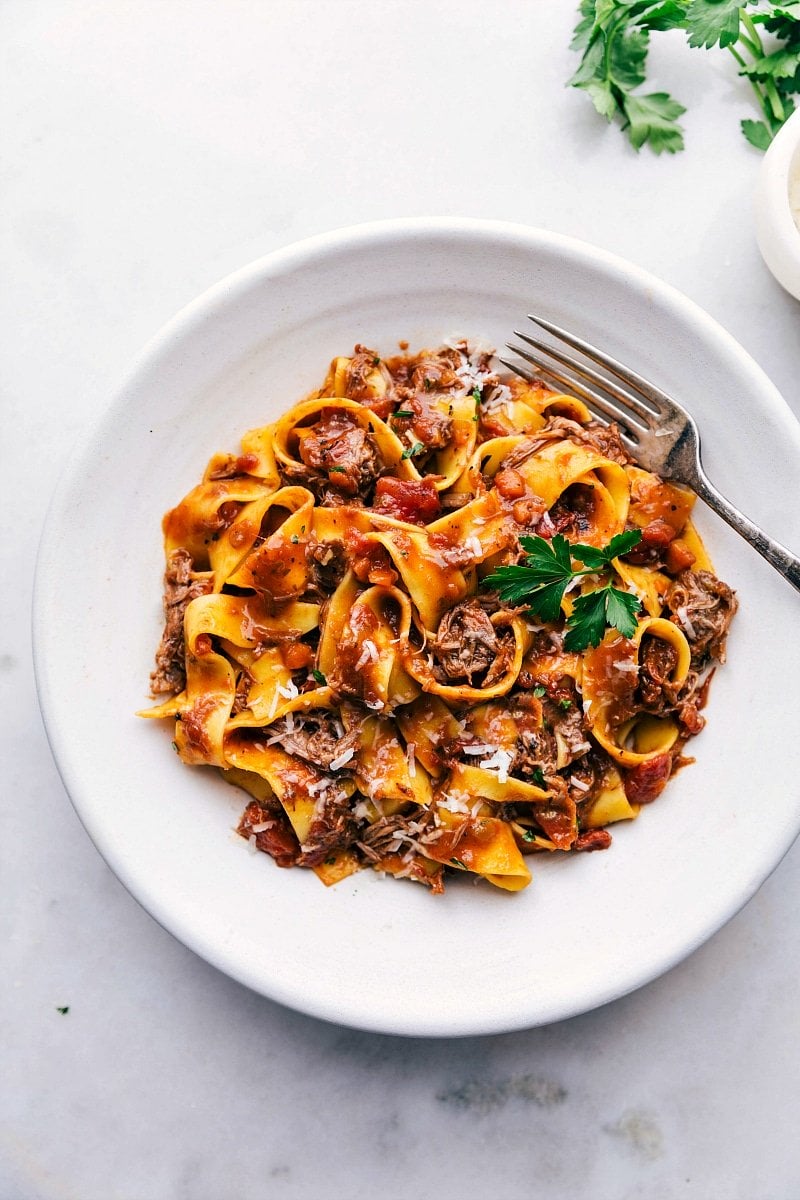 Bring Italy into your own home with this classic one pot beef ragu! Not only will it comfort your soul, but it will make your taste buds dance all night long. This hearty recipe will be sure to please all of your family and friends, whilst also providing a great source of iron, B Vitamins and protein to keep you feeling energised!
Make it a complete meal by pairing with a fresh green side salad, not only will it taste amazing but will increase your intake of vegetables to enhance overall immunity and gut health! This beautiful beef ragu recipe will also serve as a great post training recovery meal to replenish muscle glycogen stores, build and repair new muscle tissue and reduce inflammation in the body post exercise!
The following recipe serves 6 people
Ingredients:
3 Tbsp. extra-virgin olive oil, divided
1kg chuck steak (approx. 3 fillets)
1 large brown onion, diced
5 cloves garlic, thinly sliced
2 tsp. fennel seeds
2 tsp. chilli flakes or 1xlarge fresh chilli
2 rosemary sprigs
2 Tbsp. tomato paste
1/2-1 cup red wine (depending on desired taste)
400g can whole peeled tomatoes
2 tsp. balsamic vinegar
Pasta of choice (or polenta), for serving
Grated parmesan, for serving
Freshly chopped parsley, for serving
Method:
In a large stock pot, heat 1 Tbsp oil over medium heat
Season chuck steak with salt/pepper & sear (in batches if needed) until browned on all sides (1-2 mins each side). Remove and put aside.
Heat remaining oil, still over medium heat. Add onion & cook until soft.
Add garlic, fennel seeds & chilli flakes. Cook until fragrant (1-2 mins).
Add tomato paste & cook until it darkens in colour (1-2 mins).
Add red wine, stirring consistently for further 1 minute.
Finally add whole peeled tomatoes, rosemary & balsamic vinegar. Season with salt/pepper & stir to combine.
Add the seared chuck steak to the slow cooker. Cover with prepared sauce from the stockpot. Cook in slow cooker until meat easily shreds, 3-4 hours.
Use a wooden spoon to break up tomatoes & meat.
Serve over your favourite pasta or polenta & top with parmesan & parsley. Serve with a green salad.
Happy cooking and make sure to tag us on your socials if you choose to give this recipe a go! @performdietetics 📸