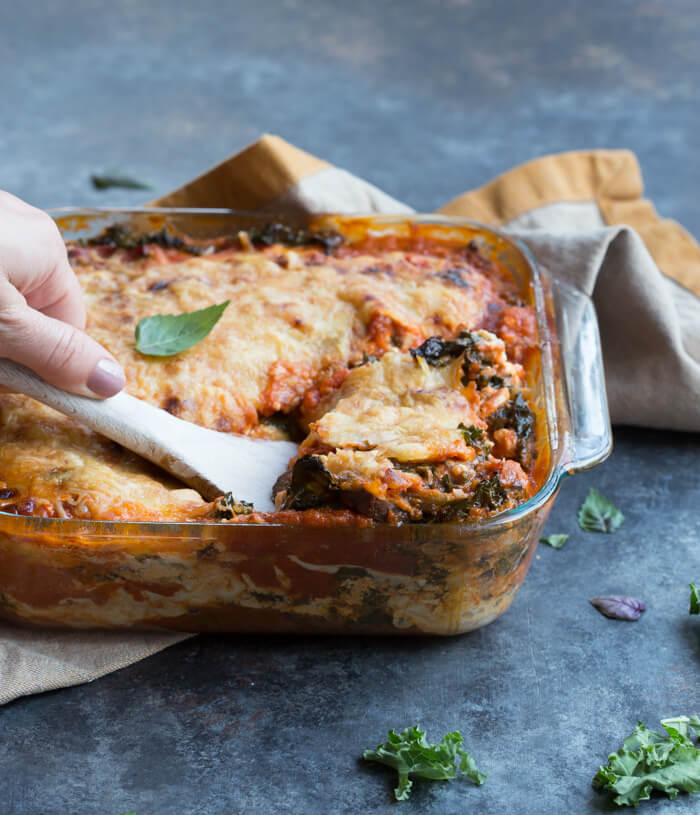 If you're looking to really impress your family and friends with a wholesome dinner that is simple, delicious and oh so nutritious… this is the recipe for you!
This dish will wholeheartedly warm up your day whilst increasing your intake of vegetables to keep your gut fighting fit and healthy. We hope that you enjoy this recipe as much as we do!
Following recipe serves 6-8
Bolognese Sauce Ingredients:
Extra virgin olive oil
1 Tbsp minced garlic
1/2 Tbsp grated ginger
1 large eggplant
1 capsicum
1 brown onion
2 zucchinis'
3 carrots
250g mushrooms
400g tin of brown lentils (rinsed & drained)
400g tin of diced tomatoes
400-500g jar of passata
2 large handfuls of spinach
Salt & pepper to taste
White sauce Ingredients:
500g of ricotta
Handful of parmesan cheese
1/3 cup mixed herbs/basil
Pepper to taste
Layers Ingredients:
1 butternut pumpkin (thinly sliced)
1 packet of wholemeal lasagne sheets
Method for Bolognese:
Preheat oven to 180 degrees Celsius fan bake.
Roughly chop all vegetables.
Coat a large pot with oil and heat to medium/high.
Brown the onion in garlic & ginger
Add capsicum, eggplant, carrot, zucchini & mushroom and cook until vegetables begin to soften.
Add tinned tomatoes, passata & brown lentils; reduce to a simmer.
Once the Bolognese reaches a lower temp, add the spinach and mix through.
Salt & pepper, then leave on very low heat until assembly.
 Method for white sauce:
In a separate mixing bowl, combine the ricotta, parmesan, mixed herbs/basil & desired amount of pepper.
Method for layers:
Thinly slice the pumpkin – ensure slices are thin otherwise they will not cook through.
 Method for assembly:
Take the Bolognese off the heat.
Spray your lasagne dish with olive oil.
Place a thin layer of Bolognese evenly on the bottom of the dish.
Cover with one layer of butternut pumpkin slices; ensure there are no large gaps.
Layer the lasagne sheets next, followed by the ricotta mix (you may find it tricky to spread but try to make it as even as possible).
Repeat these layers until there is no more Bolognese sauce. Finally, top with remainder of the ricotta & sprinkle with parmesan.
Cook for 40-60 minutes or until cooked through and the top is golden brown.
The last step is to thoroughly ENJOY every single mouthful and we would love for you to tag us on your socials if you decide to give this recipe a go!